Discover the Power of Call Center Metrics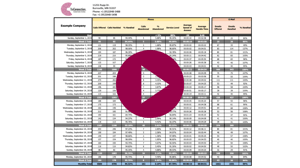 Clients of The Connection® receive a series of daily, weekly, and monthly Call Center Metrics Reports. These reports are automatically sent based on our clients' preference. In addition, we communicate on a daily or weekly basis with our clients to review and discuss these metrics.
These reports dig into the data behind our clients' calls, allowing us to provide better customer service support and help create a deeper level of engagement for our clients.
Want to monitor your team's performance and drive focus, urgency, and accountability? This starts with building systems that drive clarity, connectivity, and consistency -- and Metrics Reports provide your team with the right data to do just that.
Interested in what those calls look like?
Complete the form and gain access to a sample recorded demo video. The demo walks you through key areas of data that you can expect from your call center provider.
Fill out the form to learn more about what real call center metrics reporting looks like!
Follow along with the meeting using this sample report PDF.